logical network definition
What is a logical network?
Making Networks Virtual: The Latest on SDN Technologies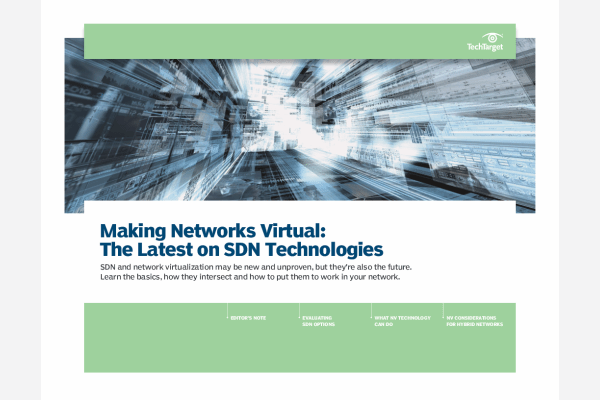 An exploration of Software-Defined Networking (SDN) technologies, network virtualization fundamentals, and the latest developments for both – helping IT pros adapt them to a modern hybrid network architecture.
By submitting your email address, you agree to receive emails regarding relevant topic offers from TechTarget and its partners. You can withdraw your consent at any time. Contact TechTarget at 275 Grove Street, Newton, MA.
You also agree that your personal information may be transferred and processed in the United States, and that you have read and agree to the Terms of Use and the Privacy Policy.

A logical network is one that appears to the user as a single, separate entity although it might in fact be either an entity created from mutliple networks or just a part of a larger network. A logical network is defined by its IP addressing scheme.
Here's networking expert Chris Partsenidis' explanation:
"When designing a network, the "logical" part refers to the IP addressing scheme used within the network. For example, 192.168.0.0/24 could be the logical network used for our design. Breaking up our example, our logical network consists of a few important points, which we should be aware of:
Network ID (192.168.0.0)
Subnet mask (/24 = 255.255.255.0)
Usable IP addresses (254 IP addresses)
Broadcast address (192.168.0.255).
This information exists in every logical network and is vital information as it helps us determine how the design will be usable according to our needs.
Selecting the appropriate IP numbering scheme and subnet mask will determine how many usable IP addresses will be available for you. If you have many networks within your company, you should then be careful not to have overlapping or similar networks. Each network must be unique, otherwise routing problems can occur."
PRO+
Content
Find more PRO+ content and other member only offers, here.