Definition
local area network (LAN)
A local area network (LAN) is a group of computers and associated devices that share a common communications line or wireless link to a server. Typically, a LAN encompasses computers and peripherals connected to a server within a small geographic area such as an office building or home. Computers and other mobile devices can share resources such as a printer or network storage.
Technical Guide: How to Achieve Unified Network Management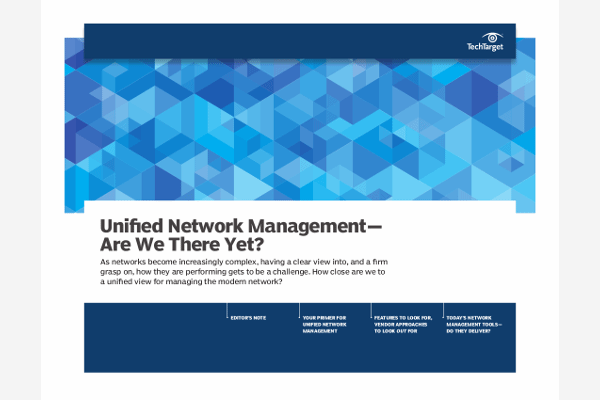 Quickly identify and resolve increasingly complex enterprise network issues. Access this comprehensive guide which reviews a holistic approach to enterprise network monitoring and the tools available to help achieve unified network management.
By submitting your email address, you agree to receive emails regarding relevant topic offers from TechTarget and its partners. You can withdraw your consent at any time. Contact TechTarget at 275 Grove Street, Newton, MA.
You also agree that your personal information may be transferred and processed in the United States, and that you have read and agree to the Terms of Use and the Privacy Policy.

Usually, the server has applications and data storage that are shared in common by multiple computer users.
A local area network may serve as few as two or three users (for example, in a home network) or as many hundreds of users. Ethernet and Wi-Fi are the two most commonly used LAN technologies. Other LAN technologies, including Token Ring, Fiber Distributed Data Interface and ARCNET have lost favor as Ethernet and Wi-Fi speeds have increased. The rise of virtualization has fueled the development of virtual LANs (VLANs) which allows network administrators to logically group network nodes and partition their networks without the need for major infrastructure changes.
Typically, a suite of application programs can be kept on the LAN server. Users who need an application frequently can download it once and then run it from their local device. Users can order printing and other services as needed through applications run on the LAN server. A user can share files with others stored on the LAN server; read and write access is maintained by a network administrator. A LAN server may also be used as a Web server if safeguards are taken to secure internal applications and data from outside access.

In some situations, a wireless LAN, or Wi-Fi, may be preferable to a wired LAN because of its flexibility and cost. Companies are assessing WLANs as a replacement for their wired infrastructures as the number of smartphones, tablets and other mobile devices proliferates.
This was first published in
April 2015
Continue Reading About local area network (LAN)
PRO+
Content
Find more PRO+ content and other member only offers, here.
Margaret Rouse asks:

Do you think wireless LANs will replace Ethernet for your organization?