Also see stackable hub.
Technical Guide: How to Achieve Unified Network Management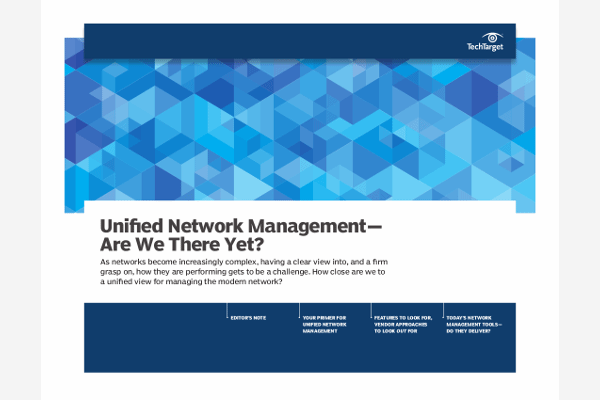 Quickly identify and resolve increasingly complex enterprise network issues. Access this comprehensive guide which reviews a holistic approach to enterprise network monitoring and the tools available to help achieve unified network management.
By submitting your email address, you agree to receive emails regarding relevant topic offers from TechTarget and its partners. You can withdraw your consent at any time. Contact TechTarget at 275 Grove Street, Newton, MA.
You also agree that your personal information may be transferred and processed in the United States, and that you have read and agree to the Terms of Use and the Privacy Policy.

In general, a hub is the central part of a wheel where the spokes come together. The term is familiar to frequent fliers who travel through airport "hubs" to make connecting flights from one point to another. In data communications, a hub is a place of convergence where data arrives from one or more directions and is forwarded out in one or more other directions. A hub usually includes a switch of some kind. (And a product that is called a "switch" could usually be considered a hub as well.) The distinction seems to be that the hub is the place where data comes together and the switch is what determines how and where data is forwarded from the place where data comes together. Regarded in its switching aspects, a hub can also include a router.
1) In describing network topologies, a hub topology consists of a backbone (main circuit) to which a number of outgoing lines can be attached ("dropped"), each providing one or more connection port for device to attach to. For Internet users not connected to a local area network, this is the general topology used by your access provider. Other common network topologies are the bus network and the ring network. (Either of these could possibly feed into a hub network, using a bridge.)
2) As a network product, a hub may include a group of modem cards for dial-in users, a gateway card for connections to a local area network (for example, an Ethernet or a token ring), and a connection to a line (the main line in this example).
This was first published in
April 2007
Continue Reading About hub
Dig Deeper on Network Administration
PRO+
Content
Find more PRO+ content and other member only offers, here.