In the Mobile Internet Protocol (Mobile IP), a home address is the relatively permanent IP address given to a mobile node. The home address remains unchanged no matter where the mobile node is located. The Internet Engineering Task Force (IETF) defines the home address in RFC 2002, IP Mobility Support, which describes an enhancement to the Internet Protocol (IP) that makes it easier to replug a mobile device into networks other than its home network.
Making Networks Virtual: The Latest on SDN Technologies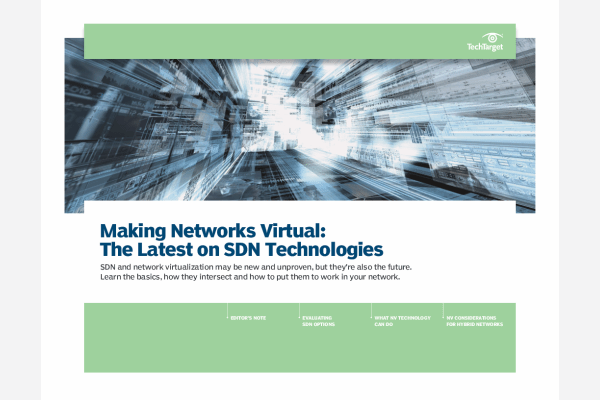 An exploration of Software-Defined Networking (SDN) technologies, network virtualization fundamentals, and the latest developments for both – helping IT pros adapt them to a modern hybrid network architecture.
By submitting your email address, you agree to receive emails regarding relevant topic offers from TechTarget and its partners. You can withdraw your consent at any time. Contact TechTarget at 275 Grove Street, Newton, MA.
You also agree that your personal information may be transferred and processed in the United States, and that you have read and agree to the Terms of Use and the Privacy Policy.

Internet routing mechanisms assume that connected devices will always connect through the same point of attachment. Connected devices represent a topology, in which specific locations are identified by the IP address. Originally, this meant that when a mobile user moved to a new location (with a different subnet), they had to disconnect and change the device's IP address to reconnect. To overcome this situation, Mobile IP and subsequent adaptations such as Mobile IP version 6 (MIPv6) and Hiearchical Mobile IP version 6 (HMIPv6) specify mechanisms for forwarding Internet traffic to an alternate address for the same device (called a care-of address) when it moves to another location.
Continue Reading About home address
Dig Deeper on WLAN Standards
PRO+
Content
Find more PRO+ content and other member only offers, here.