gigahertz (GHz) definition
The gigahertz, abbreviated GHz, is a unit of alternating current (AC) or electromagnetic (EM) wave frequency equal to one thousand million hertz (1,000,000,000 Hz). The gigahertz is used as an indicator of the frequency of ultra-high-frequency (UHF) and microwave EM signals and also, in some computers, to express microprocessor clock speed.
Next-Gen WLAN: How 802.11ac Will Change Your Network Forever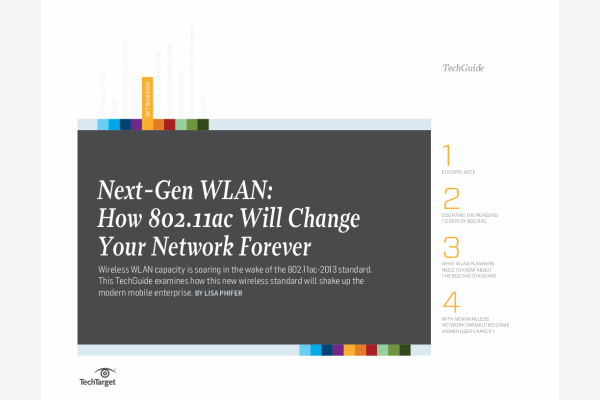 The IEEE 802.11ac-2013 standard is approved – but what does this mean for your network? Hear from experts on what this means for WLAN data rates, and why the WLAN will soon be a viable alternative to Ethernet.
By submitting your email address, you agree to receive emails regarding relevant topic offers from TechTarget and its partners. You can withdraw your consent at any time. Contact TechTarget at 275 Grove Street, Newton, MA.
You also agree that your personal information may be transferred and processed in the United States, and that you have read and agree to the Terms of Use and the Privacy Policy.

An EM signal having a frequency of 1 GHz has a wavelength of 300 millimeters, or a little less than a foot. An EM signal of 100 GHz has a wavelength of 3 millimeters, which is roughly 1/8 of an inch. Some radio transmissions are made at frequencies up to hundreds of gigahertz. Personal computer clock speeds are increasing month by month as the technology advances, and reached the 1 GHz point in March of 2000, with a processor from AMD, closely followed by a 1 GHz Pentium 3 from Intel.
Other commonly-used units of frequency are the kHz, equal to 1,000 Hz or 0.000001 GHz, and the MHz, equal to 1,000,000 Hz or 0.001 GHz.
Continue Reading About gigahertz (GHz)
PRO+
Content
Find more PRO+ content and other member only offers, here.