Definition
frequency-division multiplexing (FDM)
Frequency-division multiplexing (FDM) is a scheme in which numerous signals are combined for transmission on a single communications line or channel. Each signal is assigned a different frequency (subchannel) within the main channel.
Technical Guide: How to Achieve Unified Network Management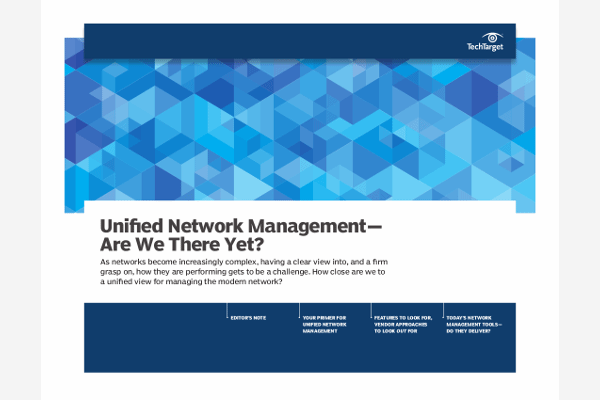 Quickly identify and resolve increasingly complex enterprise network issues. Access this comprehensive guide which reviews a holistic approach to enterprise network monitoring and the tools available to help achieve unified network management.
By submitting your email address, you agree to receive emails regarding relevant topic offers from TechTarget and its partners. You can withdraw your consent at any time. Contact TechTarget at 275 Grove Street, Newton, MA.
You also agree that your personal information may be transferred and processed in the United States, and that you have read and agree to the Terms of Use and the Privacy Policy.

A typical analog Internet connection via a twisted pair telephone line requires approximately three kilohertz (3 kHz) of bandwidth for accurate and reliable data transfer. Twisted-pair lines are common in households and small businesses. But major telephone cables, operating between large businesses, government agencies, and municipalities, are capable of much larger bandwidths.
Suppose a long-distance cable is available with a bandwidth allotment of three megahertz (3 MHz). This is 3,000 kHz, so in theory, it is possible to place 1,000 signals, each 3 kHz wide, into the long-distance channel. The circuit that does this is known as a multiplexer. It accepts the input from each individual end user, and generates a signal on a different frequency for each of the inputs. This results in a high-bandwidth, complex signal containing data from all the end users. At the other end of the long-distance cable, the individual signals are separated out by means of a circuit called a demultiplexer, and routed to the proper end users. A two-way communications circuit requires a multiplexer/demultiplexer at each end of the long-distance, high-bandwidth cable.
When FDM is used in a communications network, each input signal is sent and received at maximum speed at all times. This is its chief asset. However, if many signals must be sent along a single long-distance line, the necessary bandwidth is large, and careful engineering is required to ensure that the system will perform properly. In some systems, a different scheme, known as time-division multiplexing, is used instead.
This was first published in
April 2005
Continue Reading About frequency-division multiplexing (FDM)
Dig Deeper on Network Administration
PRO+
Content
Find more PRO+ content and other member only offers, here.