In the client/server model, a file server is a computer responsible for the central storage and management of data files so that other computers on the same network can access the files. A file server allows users to share information over a network without having to physically transfer files by floppy diskette or some other external storage device. Any computer can be configured to be a host and act as a file server. In its simplest form, a file server may be an ordinary PC that handles requests for files and sends them over the network. In a more sophisticated network, a file server might be a dedicated network-attached storage (NAS) device that also serves as a remote hard disk drive for other computers, allowing anyone on the network to store files on it as if to their own hard drive.
Next-Gen WLAN: How 802.11ac Will Change Your Network Forever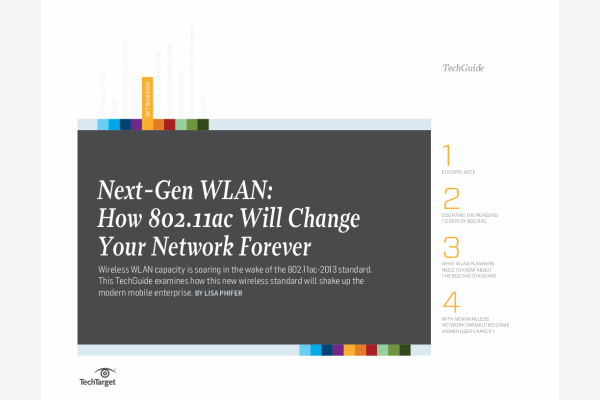 The IEEE 802.11ac-2013 standard is approved – but what does this mean for your network? Hear from experts on what this means for WLAN data rates, and why the WLAN will soon be a viable alternative to Ethernet.
By submitting your email address, you agree to receive emails regarding relevant topic offers from TechTarget and its partners. You can withdraw your consent at any time. Contact TechTarget at 275 Grove Street, Newton, MA.
You also agree that your personal information may be transferred and processed in the United States, and that you have read and agree to the Terms of Use and the Privacy Policy.

A program or mechanism that enables the required processes for file sharing can also be called a file server. On the Internet, such programs often use the File Transfer Protocol (FTP).
Continue Reading About file server
PRO+
Content
Find more PRO+ content and other member only offers, here.