In digital audio technology, an encoder is a program that converts an audio WAV file into an MP3 file, a highly-compressed sound file that preserves the quality of a CD recording. (The program that gets the sound selection from a CD and stores it as a WAV file on a hard drive is called a ripper.) An MP3 encoder compresses the WAV file so that it is about one-twelfth the size of the original digital sound file. The quality is maintained by an algorithm that optimizes for audio perception, losing data that will not contribute to perception. The program that plays the MP3 file is called a player. Some audio products provide all three programs together as a package.
Next-Gen WLAN: How 802.11ac Will Change Your Network Forever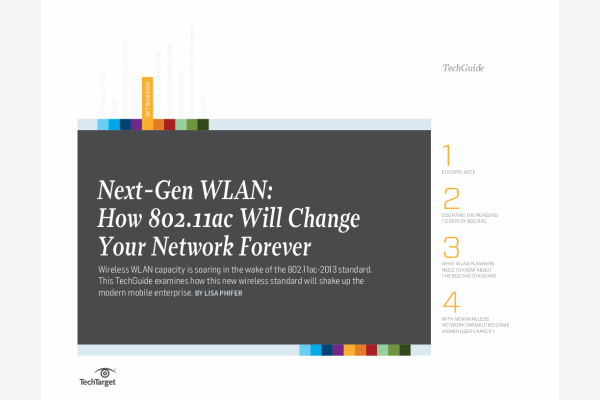 The IEEE 802.11ac-2013 standard is approved – but what does this mean for your network? Hear from experts on what this means for WLAN data rates, and why the WLAN will soon be a viable alternative to Ethernet.
By submitting your email address, you agree to receive emails regarding relevant topic offers from TechTarget and its partners. You can withdraw your consent at any time. Contact TechTarget at 275 Grove Street, Newton, MA.
You also agree that your personal information may be transferred and processed in the United States, and that you have read and agree to the Terms of Use and the Privacy Policy.

Continue Reading About encoder
PRO+
Content
Find more PRO+ content and other member only offers, here.