A datagram is, to quote the Internet's Request for Comments 1594, "a self-contained, independent entity of data carrying sufficient information to be routed from the source to the destination computer without reliance on earlier exchanges between this source and destination computer and the transporting network." The term is used in several well-known communication protocols, including the User Datagram Protocol and AppleTalk.
Next-Gen WLAN: How 802.11ac Will Change Your Network Forever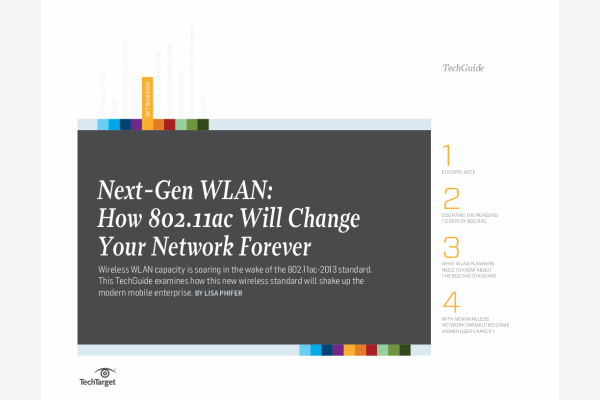 The IEEE 802.11ac-2013 standard is approved – but what does this mean for your network? Hear from experts on what this means for WLAN data rates, and why the WLAN will soon be a viable alternative to Ethernet.
By submitting your email address, you agree to receive emails regarding relevant topic offers from TechTarget and its partners. You can withdraw your consent at any time. Contact TechTarget at 275 Grove Street, Newton, MA.
You also agree that your personal information may be transferred and processed in the United States, and that you have read and agree to the Terms of Use and the Privacy Policy.

A very similar term, packet, is used in the Internet Protocol and other protocols related to the Internet.
A datagram or packet needs to be self-contained without reliance on earlier exchanges because there is no connection of fixed duration between the two communicating points as there is, for example, in most voice telephone conversations. (This kind of protocol is referred to as connectionless.)
PRO+
Content
Find more PRO+ content and other member only offers, here.