context-aware network access control definition
Context-aware network access control (CANAC) is an approach to managing the security of a proprietary network by granting access to network resources according to contextual-based security policies.
Juggling BYOD Benefits and Burdens of Management in the Enterprise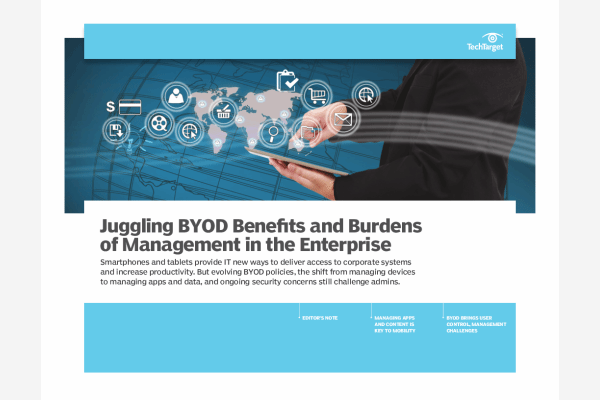 Experts explore the positive aspects of devices in the enterprise and address the challenges of managing more endpoints, facing security risks, and enforcing usage policies.
By submitting your email address, you agree to receive emails regarding relevant topic offers from TechTarget and its partners. You can withdraw your consent at any time. Contact TechTarget at 275 Grove Street, Newton, MA.
You also agree that your personal information may be transferred and processed in the United States, and that you have read and agree to the Terms of Use and the Privacy Policy.

A common concern with traditional network access control is its rigidity and the impracticality of its deployment in networks with large numbers of diverse users and devices, the nature of which constantly change. Context-aware NAC addresses these issues by making access decisions based on the context of the connection. A context-aware NAC approach requires that information be gathered from the endpoint device, the infrastructure and network services before access to network resources can be granted. The endpoint is granted access, quarantined or blocked from the network depending on the device's type, location, identity and the operating system or applications running on it.
PRO+
Content
Find more PRO+ content and other member only offers, here.