Conductance is an expression of the ease with which electric current flows through a substance. In equations, conductance is symbolized by the uppercase letter G. The standard unit of conductance is the siemens (abbreviated S), formerly known as the mho.
Technical Guide: How to Achieve Unified Network Management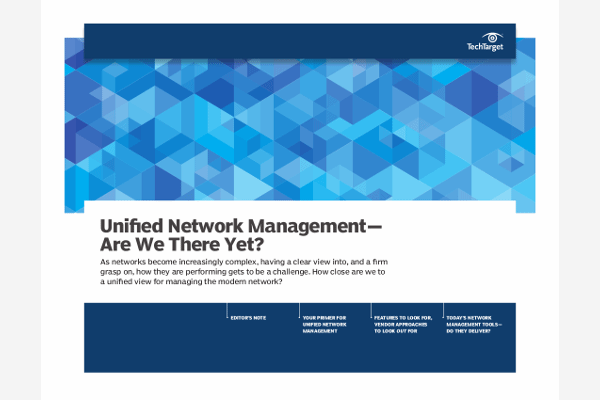 Quickly identify and resolve increasingly complex enterprise network issues. Access this comprehensive guide which reviews a holistic approach to enterprise network monitoring and the tools available to help achieve unified network management.
By submitting your email address, you agree to receive emails regarding relevant topic offers from TechTarget and its partners. You can withdraw your consent at any time. Contact TechTarget at 275 Grove Street, Newton, MA.
You also agree that your personal information may be transferred and processed in the United States, and that you have read and agree to the Terms of Use and the Privacy Policy.

When a current of one ampere (1 A) passes through a component across which a voltage of one volt (1 V) exists, then the conductance of that component is 1 S. The siemens is, in fact, equivalent to one ampere per volt. If G is the conductance of a component (in siemens), I is the current through the component (in amperes), and E is the voltage across the component (in volts), then:
G = I/E
In general, when the applied voltage is held constant, the current in a direct-current (DC) circuit is directly proportional to the conductance. If the conductance is doubled, the current is also doubled; if the conductance is cut to 1/10 its initial value, the current also becomes 1/10 as great. This rule also holds for most low-frequency alternating-current (AC) systems, such as household utility circuits. In some AC circuits, especially at high frequencies, the situation is more complex, because some components in these systems store and release energy, as well as dissipating or converting it.
Conductance is inversely related to resistance. If R is the resistance of a component or device (in ohms), then the conductance G (in siemens) is given by:
G = 1/R
This was first published in
September 2005
Dig Deeper on Network Hardware
PRO+
Content
Find more PRO+ content and other member only offers, here.