cable modem termination system (CMTS) definition
A cable modem termination system (CMTS) is a component that exchanges digital signals with cable modems on a cable network. A cable modem termination system is located at the local office of a cable television company.
Next-Gen WLAN: How 802.11ac Will Change Your Network Forever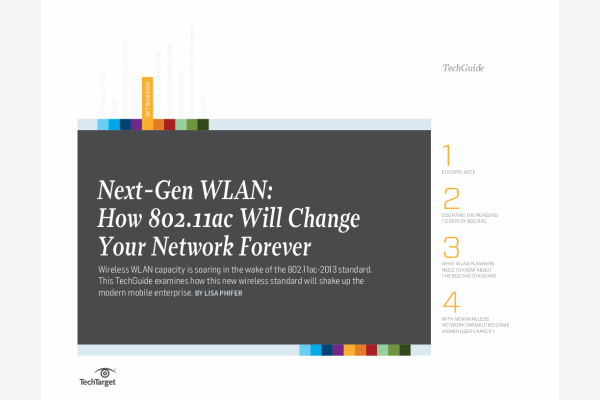 The IEEE 802.11ac-2013 standard is approved – but what does this mean for your network? Hear from experts on what this means for WLAN data rates, and why the WLAN will soon be a viable alternative to Ethernet.
By submitting your email address, you agree to receive emails regarding relevant topic offers from TechTarget and its partners. You can withdraw your consent at any time. Contact TechTarget at 275 Grove Street, Newton, MA.
You also agree that your personal information may be transferred and processed in the United States, and that you have read and agree to the Terms of Use and the Privacy Policy.

A data service is delivered to a subscriber through channels in a coaxial cable or optical fiber cable to a cable modem installed externally or internally to a subscriber's computer or television set. One television channel is used for upstream signals from the cable modem to the CMTS, and another channel is used for downstream signals from the CMTS to the cable modem. When a CMTS receives signals from a cable modem, it converts these signals into Internet Protocol (IP) packets, which are then sent to an IP router for transmission across the Internet. When a CMTS sends signals to a cable modem, it modulates the downstream signals for tranmission across the cable to the cable modem. All cable modems can receive from and send signals to the CMTS but not to other cable modems on the line.
Continue Reading About cable modem termination system (CMTS)
PRO+
Content
Find more PRO+ content and other member only offers, here.