A brouter (pronounced BRAU-tuhr or sometimes BEE-rau-tuhr) is a network bridge and a router combined in a single product. A bridge is a device that connects one local area network (LAN) to another local area network that uses the same protocol (for example, Ethernet or token ring). If a data unit on one LAN is intended for a destination on an interconnected LAN, the bridge forwards the data unit to that LAN; otherwise, it passes it along on the same LAN. A bridge usually offers only one path to a given interconnected LAN. A router connects a network to one or more other networks that are usually part of a wide area network (WAN) and may offer a number of paths out to destinations on those networks. A router therefore needs to have more information than a bridge about the interconnected networks. It consults a routing table for this information. Since a given outgoing data unit or packet from a computer may be intended for an address on the local network, on an interconnected LAN, or the wide area network, it makes sense to have a single unit that examines all data units and forwards them appropriately.
Making Networks Virtual: The Latest on SDN Technologies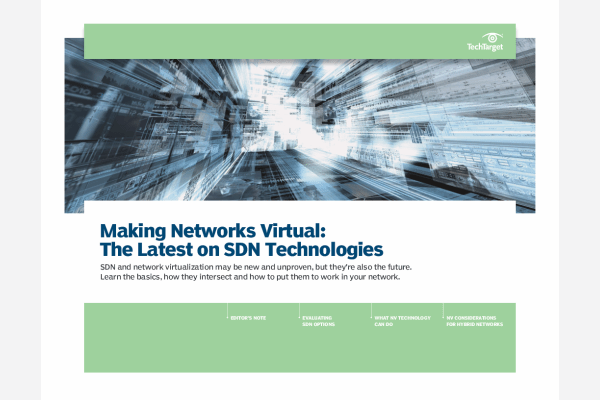 An exploration of Software-Defined Networking (SDN) technologies, network virtualization fundamentals, and the latest developments for both – helping IT pros adapt them to a modern hybrid network architecture.
By submitting your email address, you agree to receive emails regarding relevant topic offers from TechTarget and its partners. You can withdraw your consent at any time. Contact TechTarget at 275 Grove Street, Newton, MA.
You also agree that your personal information may be transferred and processed in the United States, and that you have read and agree to the Terms of Use and the Privacy Policy.

PRO+
Content
Find more PRO+ content and other member only offers, here.