In general, asynchronous (pronounced ay-SIHN-kro-nuhs, from Greek asyn-, meaning "not with," and chronos, meaning "time") is an adjective describing objects or events that are not coordinated in time. In information technology, the term has several different usages.
Next-Gen WLAN: How 802.11ac Will Change Your Network Forever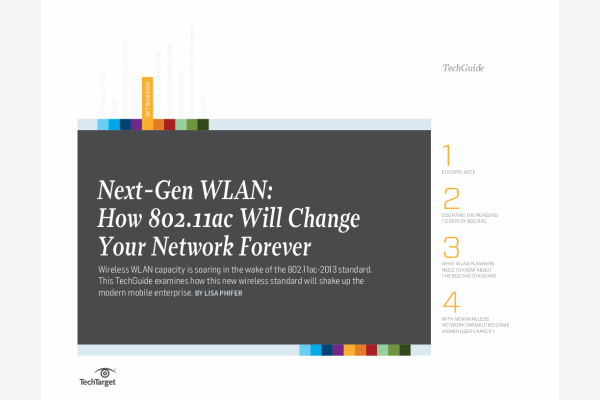 The IEEE 802.11ac-2013 standard is approved – but what does this mean for your network? Hear from experts on what this means for WLAN data rates, and why the WLAN will soon be a viable alternative to Ethernet.
By submitting your email address, you agree to receive emails regarding relevant topic offers from TechTarget and its partners. You can withdraw your consent at any time. Contact TechTarget at 275 Grove Street, Newton, MA.
You also agree that your personal information may be transferred and processed in the United States, and that you have read and agree to the Terms of Use and the Privacy Policy.

1) In telecommunication signaling within a network or between networks, an asynchronous signal is one that is transmitted at a different clock rate than another signal. (Plesiochronous signals are almost but not quite in synchronization - and a method is used to adjust them - and synchronous signals are those that run at the same clock rate.
2) In computer programs, asynchronous operation means that a process operates independently of other processes, whereas synchronous operation means that the process runs only as a result of some other process being completed or handing off operation. A typical activity that might use a synchronous protocol would be a transmission of files from one point to another. As each transmission is received, a response is returned indicating success or the need to resend. Each successive transmission of data requires a response to the previous transmission before a new one can be initiated.
Synchronous program communication is contrasted with asynchronous program communication.
PRO+
Content
Find more PRO+ content and other member only offers, here.