Essential Guide
Enhance service delivery model with WAN, application optimization
A comprehensive collection of articles, videos and more, hand-picked by our editors
Wide Area Application Services (WAAS)
Wide Area Application Services (WAAS) is a Cisco Systems technology that improves the performance of applications on a wide area network (WAN). (Continued...)
FROM THE ESSENTIAL GUIDE:
Wide Area Application Services (WAAS) is a Cisco Systems technology that improves the performance of applications on a wide area network (WAN). WAAS combines Cisco's Wide Area File Services (WAFS) with WAN optimization inside of a router, accelerating TCP-based applications on a given network.
Next-Gen WLAN: How 802.11ac Will Change Your Network Forever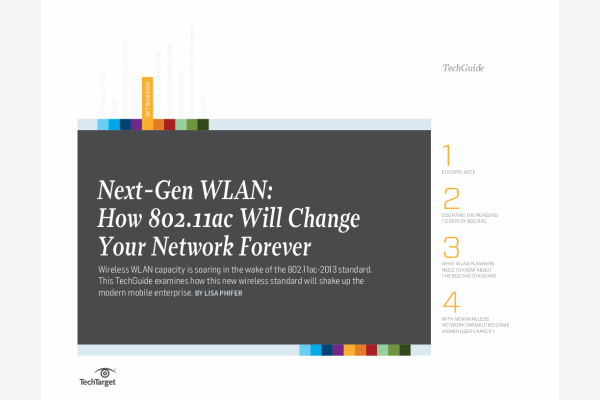 The IEEE 802.11ac-2013 standard is approved – but what does this mean for your network? Hear from experts on what this means for WLAN data rates, and why the WLAN will soon be a viable alternative to Ethernet.
By submitting your personal information, you agree to receive emails regarding relevant products and special offers from TechTarget and its partners. You also agree that your personal information may be transferred and processed in the United States, and that you have read and agree to the Terms of Use and the Privacy Policy.

WAAS gives networking professionals a tool that is integrated with existing enterprise network architectures with minimal configuration steps. WAAS allows administers to manage and optimize networks to increasingly burdened by bandwidth-intensive applications like VoIP, video and Web applications.
Continue Reading About Wide Area Application Services (WAAS)
PRO+
Content
Find more PRO+ content and other member only offers, here.