VxWorks is a real-time operating system (RTOS) that can be used in embedded systems. VxWorks can be customized easily and can run on most processors designed for distributed computing. VxWorks is used to control network and communication devices, test and measurement equipment, computer peripherals, automotive systems, avionics (aeronautics and astronautics) equipment and diverse consumer products.
Next-Gen WLAN: How 802.11ac Will Change Your Network Forever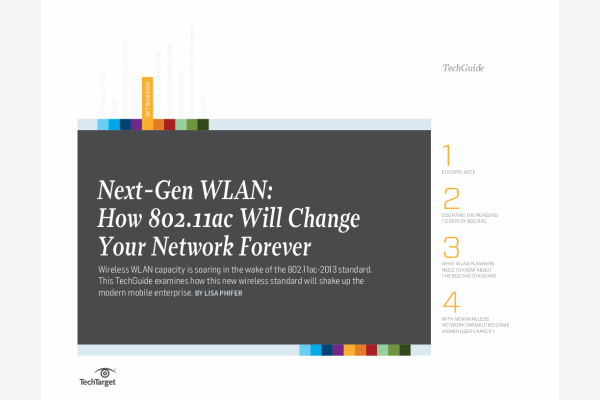 The IEEE 802.11ac-2013 standard is approved – but what does this mean for your network? Hear from experts on what this means for WLAN data rates, and why the WLAN will soon be a viable alternative to Ethernet.
By submitting your email address, you agree to receive emails regarding relevant topic offers from TechTarget and its partners. You can withdraw your consent at any time. Contact TechTarget at 275 Grove Street, Newton, MA.
You also agree that your personal information may be transferred and processed in the United States, and that you have read and agree to the Terms of Use and the Privacy Policy.

VxWorks has some similarities to Unix and includes a shell, debugging functions, memory management, performance monitoring and support for multiprocessing. The OS includes a kernel for preemptive multitasking, interrupt response, interprocess communication and a file system. Programming in VxWorks can be difficult for novices because the programmer must write the code on an as-needed basis. However, the fact that there is minimal content to save and restore means that VxWorks uses less processing power than Unix, so it can run faster.
VxWorks is a trademark of Wind River Systems, a company specializing in software optimization and based in Alameda, California, USA.
Continue Reading About VxWorks
PRO+
Content
Find more PRO+ content and other member only offers, here.