What is Telnet?
Telnet is a user command and an underlying TCP/IP protocol for accessing remote computers. Through Telnet, an administrator or another user can access someone else's computer remotely. On the Web, HTTP and FTP protocols allow you to request specific files from remote computers, but not to actually be logged on as a user of that computer. With Telnet, you log on as a regular user with whatever privileges you may have been granted to the specific application and data on that computer.
Next-Gen WLAN: How 802.11ac Will Change Your Network Forever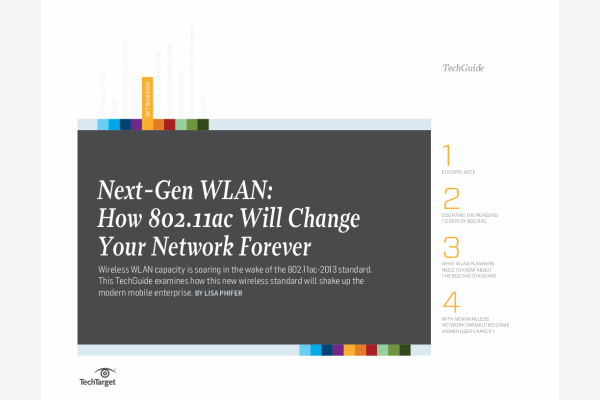 The IEEE 802.11ac-2013 standard is approved – but what does this mean for your network? Hear from experts on what this means for WLAN data rates, and why the WLAN will soon be a viable alternative to Ethernet.
By submitting your email address, you agree to receive emails regarding relevant topic offers from TechTarget and its partners. You can withdraw your consent at any time. Contact TechTarget at 275 Grove Street, Newton, MA.
You also agree that your personal information may be transferred and processed in the United States, and that you have read and agree to the Terms of Use and the Privacy Policy.

A Telnet command request looks like this (the computer name is made-up):
telnet the.libraryat.whatis.edu
The result of this request would be an invitation to log on with a userid and a prompt for a password. If accepted, you would be logged on like any user who used this computer every day.
Telnet is most likely to be used by program developers and anyone who has a need to use specific applications or data located at a particular host computer.
PRO+
Content
Find more PRO+ content and other member only offers, here.