Shannon's Law, formulated by Claude Shannon, a mathematician who helped build the foundations for the modern computer, is a statement in information theory that expresses the maximum possible data speed that can be obtained in a data channel. Shannon's Law says that the highest obtainable error-free data speed, expressed in bits per second (bps), is a function of the bandwidth and the signal-to-noise ratio.
Making Networks Virtual: The Latest on SDN Technologies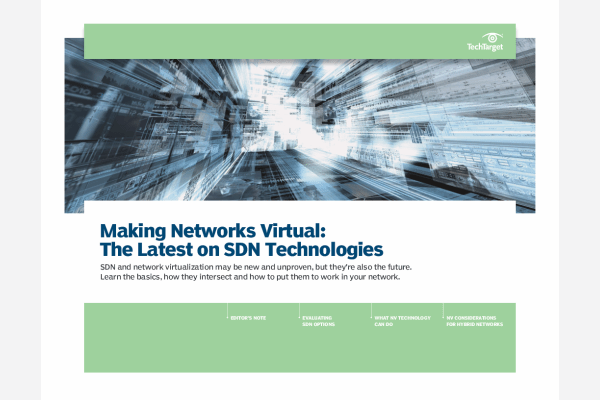 An exploration of Software-Defined Networking (SDN) technologies, network virtualization fundamentals, and the latest developments for both – helping IT pros adapt them to a modern hybrid network architecture.
By submitting your email address, you agree to receive emails regarding relevant topic offers from TechTarget and its partners. You can withdraw your consent at any time. Contact TechTarget at 275 Grove Street, Newton, MA.
You also agree that your personal information may be transferred and processed in the United States, and that you have read and agree to the Terms of Use and the Privacy Policy.

Let c be the maximum obtainable error-free data speed in bps that a communications channel can handle. Let b be the channel bandwidth in hertz. Let s represent the signal-to-noise ratio. Then Shannon's law is stated as follows:
c = b log2 (1 + s)
The function log2 represents the base-2 logarithm. All logarithms are exponents. The base-2 logarithm of a number x is the number y such that 2y = x.
No practical communications system has yet been devised that can operate at close to the theoretical speed limit defined by Shannon's law. Some systems, using sophisticated encoding and decoding, can approach half of the so-called Shannon limit for a channel having fixed bandwidth and signal-to-noise ratio.
Continue Reading About Shannon's Law
PRO+
Content
Find more PRO+ content and other member only offers, here.