Serial Digital Interface (SDI) definition
Serial Digital Interface (SDI) is a standard for digital video transmission over coaxial cable. The most common data speed is 270 megabits per second (Mbps). However, speeds of up to 540 Mbps are theoretically possible. Standard 75-ohm cable is used. This is the same type of coaxial cable used in most home television (TV) installations.
Making Networks Virtual: The Latest on SDN Technologies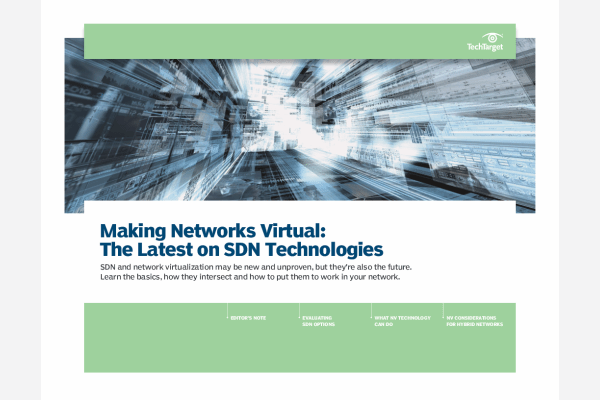 An exploration of Software-Defined Networking (SDN) technologies, network virtualization fundamentals, and the latest developments for both – helping IT pros adapt them to a modern hybrid network architecture.
By submitting your email address, you agree to receive emails regarding relevant topic offers from TechTarget and its partners. You can withdraw your consent at any time. Contact TechTarget at 275 Grove Street, Newton, MA.
You also agree that your personal information may be transferred and processed in the United States, and that you have read and agree to the Terms of Use and the Privacy Policy.

The SDI standard uses data words that are 8 or 10 bits in length. Signals are uncompressed and are self-synchronizing between the source (transmitter) and destination (receiver). Most errors caused by noise or interference can be detected, and the lost data recovered by means of a specialized code called the Hamming code. A signal in SDI can contain up to four independent digital audio signals along with the video signal.
SDI also stands for the Strategic Defense Initiative, a U.S. space defense initiative.
Continue Reading About Serial Digital Interface (SDI)
PRO+
Content
Find more PRO+ content and other member only offers, here.