SYN scanning is a tactic that a malicious hacker (or cracker) can use to determine the state of a communications port without establishing a full connection. This approach, one of the oldest in the repertoire of crackers, is sometimes used to perform denial-of-service (DoS) attacks. SYN scanning is also known as half-open scanning.
Next-Gen WLAN: How 802.11ac Will Change Your Network Forever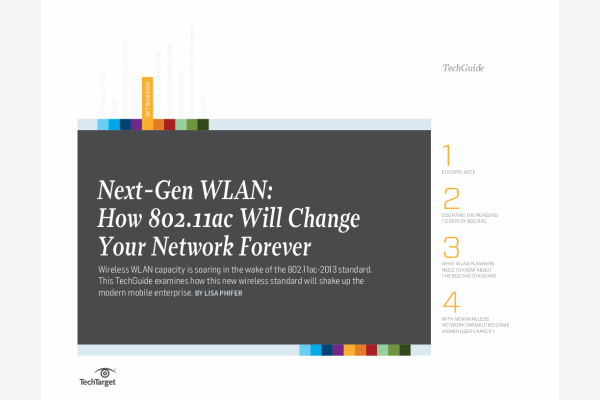 The IEEE 802.11ac-2013 standard is approved – but what does this mean for your network? Hear from experts on what this means for WLAN data rates, and why the WLAN will soon be a viable alternative to Ethernet.
By submitting your email address, you agree to receive emails regarding relevant topic offers from TechTarget and its partners. You can withdraw your consent at any time. Contact TechTarget at 275 Grove Street, Newton, MA.
You also agree that your personal information may be transferred and processed in the United States, and that you have read and agree to the Terms of Use and the Privacy Policy.

In SYN scanning, the hostile client attempts to set up a TCP/IP connection with a server at every possible port. This is done by sending a SYN (synchronization) packet, as if to initiate a three-way handshake, to every port on the server. If the server responds with a SYN/ACK (synchronization acknowledged) packet from a particular port, it means the port is open. Then the hostile client sends an RST (reset) packet. As a result, the server assumes that there has been a communications error, and that the client has decided not to establish a connection. The open port nevertheless remains open and vulnerable to exploitation. If the server responds with an RST (reset) packet from a particular port, it indicates that the port is closed and cannot be exploited.
By continuously sending large numbers of SYN packets to a server, a cracker can consume the resources of the server. Because the server is flooded with requests from the hostile client, few or no communications from legitimate clients can take place.
Continue Reading About SYN scanning
PRO+
Content
Find more PRO+ content and other member only offers, here.