SPID (Service Profile Identifier) definition
A SPID (Service Profile Identifier) is a number assigned by a phone company to a terminal on an Integrated Services Digital Network B-channel. A SPID tells equipment at the phone company's central office about the capabilities of each terminal (computer or phone) on the B-channels. A Basic Rate home or business user may divide service into two B-channels with one used for normal phone service and the other for computer data. The SPID tells the phone company whether the terminal accepts voice or data information.
Making Networks Virtual: The Latest on SDN Technologies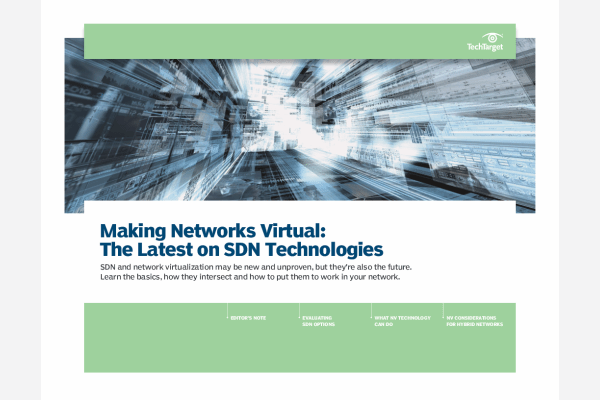 An exploration of Software-Defined Networking (SDN) technologies, network virtualization fundamentals, and the latest developments for both – helping IT pros adapt them to a modern hybrid network architecture.
By submitting your email address, you agree to receive emails regarding relevant topic offers from TechTarget and its partners. You can withdraw your consent at any time. Contact TechTarget at 275 Grove Street, Newton, MA.
You also agree that your personal information may be transferred and processed in the United States, and that you have read and agree to the Terms of Use and the Privacy Policy.

Technically, the SPID is a numeric string from 3 to 20 digits in length. A SPID (or more than one, if necessary) is assigned when you order the ISDN Basic Rate Interface (BRI) from the phone company. Beginning in 1998, most phone companies began to use a generic SPID format. In this format, the SPID is a 14-digit number that includes your 10-digit telephone number (which includes your 3-digit Numbering Plan Area ]NPA[ or area code), a 2-digit Sharing Terminal Identifier, and a 2-digit Terminal Identifier (TID). The generic SPID format makes it easier to tell users what to specify when installing an ISDN line and simplifies corporate installation procedures.
Beginning in 1998, some ISDN manufacturers began to provide non-initializing terminals (NITs) that do not require the entering of a SPID. Manufacturers also are delivering terminals with automated SPID selection in which the correct SPID is downloaded to the terminal rather than having to be specified by the user.
Continue Reading About SPID (Service Profile Identifier)
PRO+
Content
Find more PRO+ content and other member only offers, here.