An RCA connector is a plug and a jack designed for use with coaxial cable for frequencies ranging from the very lowest up to several megahertz. An RCA connector is sometimes known as a phono plug and jack.
Technical Guide: How to Achieve Unified Network Management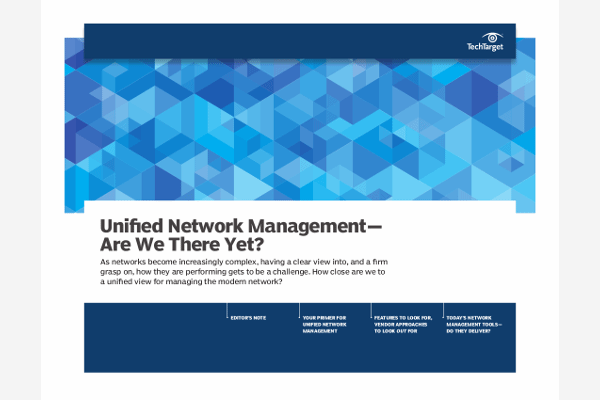 Quickly identify and resolve increasingly complex enterprise network issues. Access this comprehensive guide which reviews a holistic approach to enterprise network monitoring and the tools available to help achieve unified network management.
By submitting your email address, you agree to receive emails regarding relevant topic offers from TechTarget and its partners. You can withdraw your consent at any time. Contact TechTarget at 275 Grove Street, Newton, MA.
You also agree that your personal information may be transferred and processed in the United States, and that you have read and agree to the Terms of Use and the Privacy Policy.

The male RCA plug consists of a central pin measuring approximately two millimeters (mm) in diameter, and an outer shell whose inside diameter is approximately six mm. The plug shell is slotted rather than threaded, to facilitate quick insertion to, and removal from, the female jack or receptacle. Contact is maintained by physical pressure between the slotted shell of the plug and the smooth cylindrical barrel of the jack. The plug shell is connected to the outer conductor, or shield, of the coaxial cable, normally at electrical ground. The center pin of the plug is connected to the cable center conductor, which carries the signal. In the jack, the barrel is grounded and the center hole is plated inside to conduct the signal.
RCA connectors are suitable for audio-frequency (AF) applications. They are also used in radio-frequency (RF) systems at low and medium frequencies, and at power levels up to approximately 100 watts. At higher frequencies or higher power levels, larger connectors are necessary. RCA connectors are designed for cables with small outside diameters (less than 6 or 7 mm) and are intended for indoor use only.
This was first published in
September 2005
Dig Deeper on Network Hardware
PRO+
Content
Find more PRO+ content and other member only offers, here.