Port Address Translation (PAT) definition
Port Address Translation (PAT), is an extension to network address translation (NAT) that permits multiple devices on a local area network (LAN) to be mapped to a single public IP address. The goal of PAT is to conserve IP addresses.
Next-Gen WLAN: How 802.11ac Will Change Your Network Forever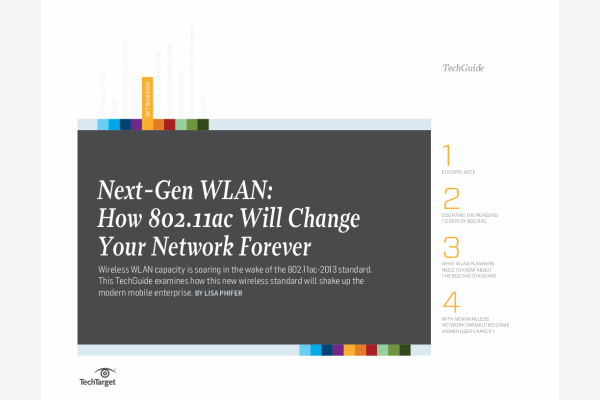 The IEEE 802.11ac-2013 standard is approved – but what does this mean for your network? Hear from experts on what this means for WLAN data rates, and why the WLAN will soon be a viable alternative to Ethernet.
By submitting your email address, you agree to receive emails regarding relevant topic offers from TechTarget and its partners. You can withdraw your consent at any time. Contact TechTarget at 275 Grove Street, Newton, MA.
You also agree that your personal information may be transferred and processed in the United States, and that you have read and agree to the Terms of Use and the Privacy Policy.

Most home networks use PAT. In such a scenario, the Internet Service Provider (ISP) assigns a single IP address to the home network's router. When Computer X logs on the Internet, the router assigns the client a port number, which is appended to the internal IP address. This, in effect, gives Computer X a unique address. If Computer Z logs on the Internet at the same time, the router assigns it the same local IP address with a different port number. Although both computers are sharing the same public IP address and accessing the Internet at the same time, the router knows exactly which computer to send specific packets to because each computer has a unique internal address.
Port Address Tranlation is also called porting, port overloading, port-level multiplexed NAT and single address NAT.
PRO+
Content
Find more PRO+ content and other member only offers, here.