Definition
PPP (Point-to-Point Protocol)
PPP (Point-to-Point Protocol) is a protocol for communication between two computers using a serial interface, typically a personal computer connected by phone line to a server. For example, your Internet server provider may provide you with a PPP connection so that the provider's server can respond to your requests, pass them on to the Internet, and forward your requested Internet responses back to you. PPP uses the Internet protocol (IP) (and is designed to handle others). It is sometimes considered a member of the TCP/IP suite of protocols. Relative to the Open Systems Interconnection (OSI) reference model, PPP provides layer 2 (data-link layer) service. Essentially, it packages your computer's TCP/IP packets and forwards them to the server where they can actually be put on the Internet.
Technical Guide: How to Achieve Unified Network Management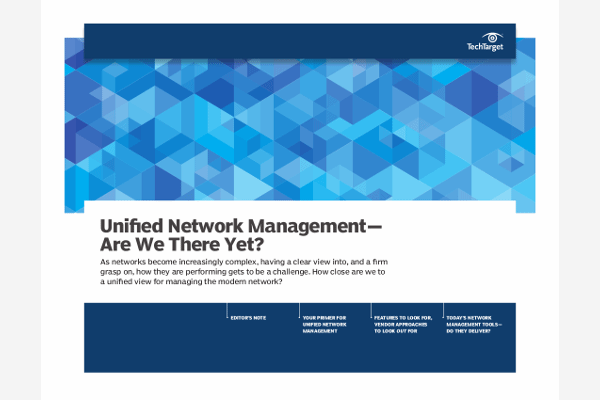 Quickly identify and resolve increasingly complex enterprise network issues. Access this comprehensive guide which reviews a holistic approach to enterprise network monitoring and the tools available to help achieve unified network management.
By submitting your email address, you agree to receive emails regarding relevant topic offers from TechTarget and its partners. You can withdraw your consent at any time. Contact TechTarget at 275 Grove Street, Newton, MA.
You also agree that your personal information may be transferred and processed in the United States, and that you have read and agree to the Terms of Use and the Privacy Policy.

PPP is a full-duplex protocol that can be used on various physical media, including twisted pair or fiber optic lines or satellite transmission. It uses a variation of High Speed Data Link Control (HDLC) for packet encapsulation.
PPP is usually preferred over the earlier de facto standard Serial Line Internet Protocol (SLIP) because it can handle synchronous as well as asynchronous communication. PPP can share a line with other users and it has error detection that SLIP lacks. Where a choice is possible, PPP is preferred.
This was first published in
April 2007
Continue Reading About PPP (Point-to-Point Protocol)
Dig Deeper on Working With Servers and Desktops
PRO+
Content
Find more PRO+ content and other member only offers, here.