Novell Directory Services (NDS) definition
Novell Directory Services (NDS) is a popular software product for managing access to computer resources and keeping track of the users of a network, such as a company's intranet, from a single point of administration. Using NDS, a network administrator can set up and control a database of users and manage them using a directory with an easy-to-use graphical user interface (GUI). Users of computers at remote locations can be added, updated, and managed centrally. Applications can be distributed electronically and maintained centrally.
Making Networks Virtual: The Latest on SDN Technologies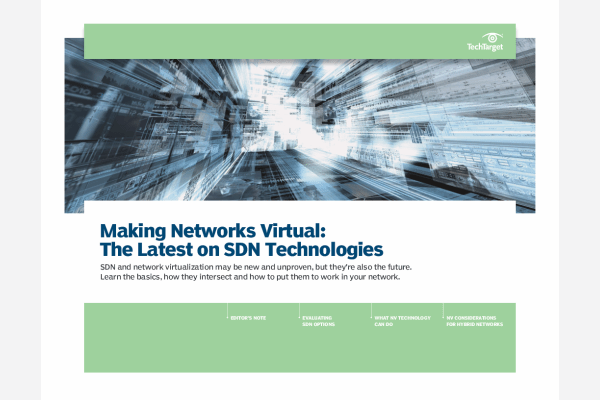 An exploration of Software-Defined Networking (SDN) technologies, network virtualization fundamentals, and the latest developments for both – helping IT pros adapt them to a modern hybrid network architecture.
By submitting your email address, you agree to receive emails regarding relevant topic offers from TechTarget and its partners. You can withdraw your consent at any time. Contact TechTarget at 275 Grove Street, Newton, MA.
You also agree that your personal information may be transferred and processed in the United States, and that you have read and agree to the Terms of Use and the Privacy Policy.

NDS can be installed to run under Windows NT, Sun Microsystem's Solaris, and IBM's OS/390 as well as under Novell's own NetWare so that it can be used to control a multi-platform network. NDS is generally considered an industry benchmark against which other products, such as Microsoft's Active Directory, must compete.
Lucent Technologies plans to integrate NDS into its own QIP product, which automatically maintains directory information about network Internet Protocol (IP) domain name and IP address and Dynamic Host Configuration Protocol (DHCP) information. Administrators will be able to set up primary and secondary directories and automate immediate switchover to the backup directory in the event of a server failure.
Continue Reading About Novell Directory Services (NDS)
PRO+
Content
Find more PRO+ content and other member only offers, here.