NWay is a telecommunications protocol used with Ethernet networking devices (such as router and switch) to automatically negotiate the highest possible common transmission speed between two devices. The NWay protocol (also known as auto-negotiation or auto-sensing) was developed by National Semiconductor in 1994 in response to the networking industry's need for a mechanism to handle the connections between devices with varying connection speeds.
Technical Guide: How to Achieve Unified Network Management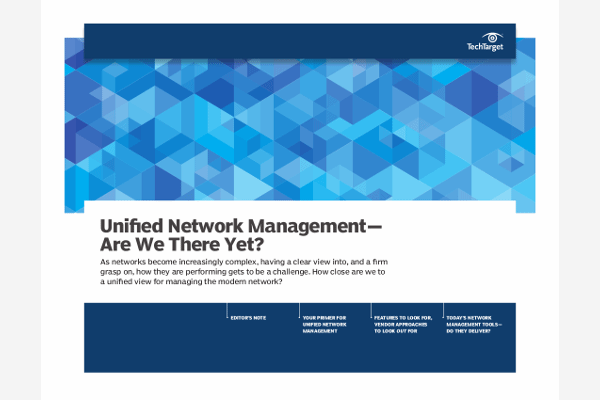 Quickly identify and resolve increasingly complex enterprise network issues. Access this comprehensive guide which reviews a holistic approach to enterprise network monitoring and the tools available to help achieve unified network management.
By submitting your email address, you agree to receive emails regarding relevant topic offers from TechTarget and its partners. You can withdraw your consent at any time. Contact TechTarget at 275 Grove Street, Newton, MA.
You also agree that your personal information may be transferred and processed in the United States, and that you have read and agree to the Terms of Use and the Privacy Policy.

In an Ethernet network, a device may have the capability to operate at different speeds. NWay currently supports at least the following technologies:10BASE-T, 10BASE-T duplex, 100BASE-T, 100BASE-TX Full Duplex, and 100BASE-T4. Expanded support capability is likely in the near future.
When a connection to a network device (known as the link partner) has been established, the NWay protocol determines what modes that device uses, sends information about its own capabilities, and automatically configures the highest common performance mode. NWay works by taking control of the cable connected to a network device and operating like a rotary switch (an electromechanical device with a rotating shaft at one terminal that makes or breaks connections with other terminals) to change to the best mode possible, and passing control of the cable to the appropriate technology.
The benefits of NWay technology include:
Efficient connections at the highest possible performance levels without any need for user intervention
Protection of network integrity, because if the devices involved lack a common technology, NWay will not make the connection, thus protecting users from the potentially serious problems that can be caused by a connection that a hub cannot recognize or accept
An architecture that supports flexibility and extensibility.
NWay (Auto-Negotiation) is defined in Clause 28 of the D4 draft of the ANSI/IEEE Std 802.3 MAC Parameters, Physical Layer, Medium Attachment Units and Repeater for 100 Mb/s Operation.
This was first published in
April 2007
Continue Reading About NWay
PRO+
Content
Find more PRO+ content and other member only offers, here.