N1 is Sun Microsystems' strategy for making a network environment as easy to manage as a single machine. The N1 project will use a virtualization technology developed by Pirus Networks, a company since acquired by Sun. By virtualizing all the server, storage, and network equipment required for a service into a single system, N1 is expected to simplify administration and use resources more efficiently.
Technical Guide: How to Achieve Unified Network Management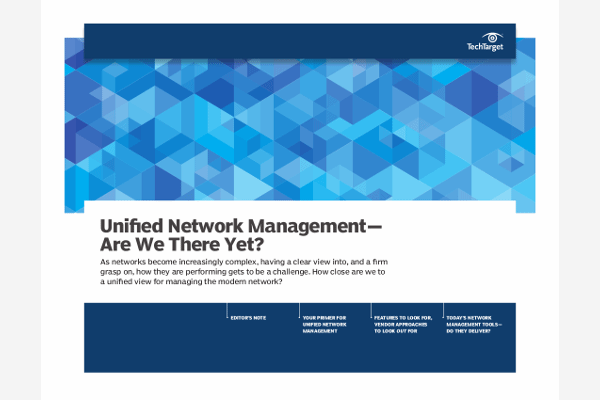 Quickly identify and resolve increasingly complex enterprise network issues. Access this comprehensive guide which reviews a holistic approach to enterprise network monitoring and the tools available to help achieve unified network management.
By submitting your email address, you agree to receive emails regarding relevant topic offers from TechTarget and its partners. You can withdraw your consent at any time. Contact TechTarget at 275 Grove Street, Newton, MA.
You also agree that your personal information may be transferred and processed in the United States, and that you have read and agree to the Terms of Use and the Privacy Policy.

Because separate storage systems in a traditional environment are linked to specific servers or dedicated to specific tasks, they often have a great deal of capacity going unused. Virtualization makes it possible for multiple storage systems and servers to act as a single large computing resource, in which any server can use any available capacity.
At the SunNetwork 2002 conference, Steve MacKay (vice president for the N1 project) said that N1 would make it possible to automate currently manual tasks and to maximize the use of existing hardware by distributing work across systems. According to MacKay, N1 will allow administrators to make more computing power available when a particular job requires more resources, and to guarantee response times for job completion.
Ease of management translates to financial benefits gained by making equipment in data centers handle much more work than they are currently able to perform. Industry analyst Jonathan Eunice estimated that N1 would increase server processor usage in the typical data center to 80 percent utilization, up from the current 15 percent. That level of efficiency would increase the amount of storage that an administrator could control to 100 terabytes, up from a single terabyte.
IBM's autonomic computing initiative and Hewlett-Packard's Utility Data Center product have objectives similar to those of N1.
This was first published in
August 2006
Continue Reading About N1
Dig Deeper on Network Management
PRO+
Content
Find more PRO+ content and other member only offers, here.