Learning Path: Network and Web Site Administration definition
NETWORK AND WEB SITE ADMINISTRATION....network operations center (NOC) - internetworking - firewall - proxy server - DMZ - NAT - EGP - BGP - peering - colocation - IGP - DHCP - network operating system - Novell Directory Services (NDS) - nslookup - NNTP - SNMP - e-mail - POP3 - Simple Mail Transfer Protocol (SMTP) - X.400 Messaging - e-mail reflector - list server - file sharing - Web server - Network File System (NFS) - finger - ping - traceroute - TTL (time-to-live) - GDMO - ICMP - Apache (server) - X.500 Directory Service - Lightweight Directory Access Protocol (LDAP) - Windows Internet Naming Service (WINS) - Universal Naming Convention - UDDI - vital product data - root server system - access control list - public key infrastructure - linkrot - Kermit - Internet traffic sites - ping storm - KVM switch - sliding windows - denial-of-service attack - ghost imaging
Next-Gen WLAN: How 802.11ac Will Change Your Network Forever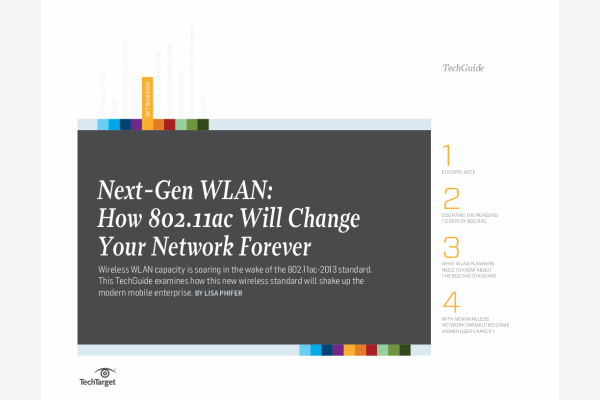 The IEEE 802.11ac-2013 standard is approved – but what does this mean for your network? Hear from experts on what this means for WLAN data rates, and why the WLAN will soon be a viable alternative to Ethernet.
By submitting your email address, you agree to receive emails regarding relevant topic offers from TechTarget and its partners. You can withdraw your consent at any time. Contact TechTarget at 275 Grove Street, Newton, MA.
You also agree that your personal information may be transferred and processed in the United States, and that you have read and agree to the Terms of Use and the Privacy Policy.

View other topics for self-study by visiting our Guide to the Learning Paths.
PRO+
Content
Find more PRO+ content and other member only offers, here.