A LAN party is a gathering in which gamers (devotees of computer games) gather to share a local area network (LAN) and participate in extended gaming sessions of popular games such as Quake, Doom, or Wolfenstein. On a LAN, response time among players is much faster than the same interaction over the Internet, changing the quality of the game. In addition, gamers have the opportunity to meet other participants in the flesh. LAN parties range in size from a few players getting together in a private home to gatherings of over a thousand players converging to participate in a large public event. Large LAN parties often attract corporate sponsorship from hardware and software vendors.
Next-Gen WLAN: How 802.11ac Will Change Your Network Forever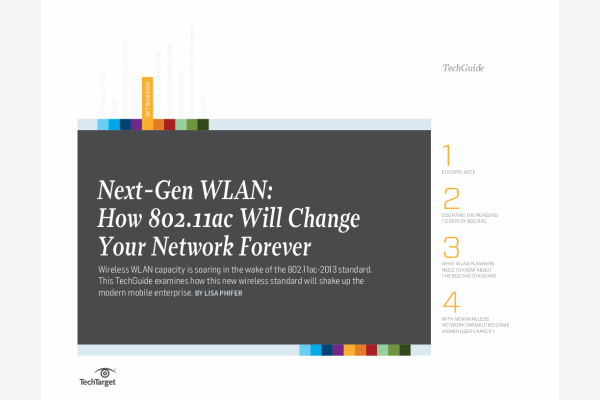 The IEEE 802.11ac-2013 standard is approved – but what does this mean for your network? Hear from experts on what this means for WLAN data rates, and why the WLAN will soon be a viable alternative to Ethernet.
By submitting your email address, you agree to receive emails regarding relevant topic offers from TechTarget and its partners. You can withdraw your consent at any time. Contact TechTarget at 275 Grove Street, Newton, MA.
You also agree that your personal information may be transferred and processed in the United States, and that you have read and agree to the Terms of Use and the Privacy Policy.

One of the largest LAN parties is QuakeCon (for Quake convention), which began in Garland, Texas in 1996 with 150 gamers in attendance. QuakeCon 2002, held in Mesquite, Texas (home of id Software, developer of Quake) attracted about 3,000 players from all over the world attending the four-day event. In addition to the usual conference fare of workshops, discussions, and seminars, QuakeCon 2002 featured: a cash-prize team tournament area; a sponsorship area, where vendors showcased their products; and a B.Y.O.C. (Bring Your Own Computer) area, where some 1300 participants plugged their own computers into a network to compete.
Continue Reading About LAN party
PRO+
Content
Find more PRO+ content and other member only offers, here.