IS-IS (Intermediate System-to-Intermediate System protocol) definition
One of the most commonly used routing protocols, the Intermediate System-to-Intermediate System protocol (IS-IS) is based on a routing method known as DECnet Phase V routing, in which routers known as intermediate systems exchange data about routing using a single metric to determine the network topology. IS-IS was developed by the International Organization for Standardization (ISO) as part of their Open Systems Interconnection (OSI) model. The first versions of IS-IS were used to manage routing within ISO Connectionless Network Protocol (CLNP) networks. IS-IS was ratified as a standard in 1990 (OSI IS-IS Intra-domain Routing Protocol, IETFRFC 1142 [2], ISO/IEC 10589 [3]).
Making Networks Virtual: The Latest on SDN Technologies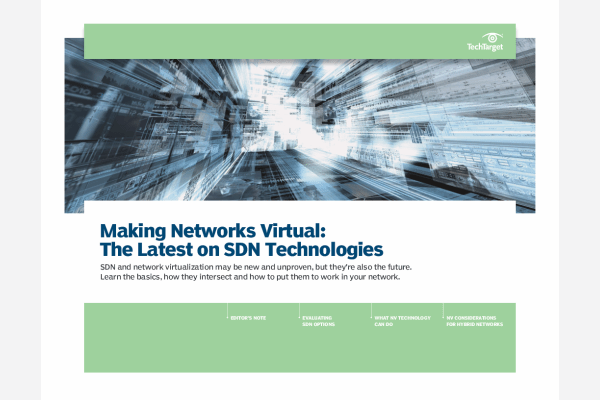 An exploration of Software-Defined Networking (SDN) technologies, network virtualization fundamentals, and the latest developments for both – helping IT pros adapt them to a modern hybrid network architecture.
By submitting your email address, you agree to receive emails regarding relevant topic offers from TechTarget and its partners. You can withdraw your consent at any time. Contact TechTarget at 275 Grove Street, Newton, MA.
You also agree that your personal information may be transferred and processed in the United States, and that you have read and agree to the Terms of Use and the Privacy Policy.

In the OSI context, an intermediate system refers to a router, as opposed to an end system (ES), which refers to a node. ES-IS protocols allow routers and nodes to identify each other; IS-IS performs the same service between nodes for routing purposes. In common with other routing protocols such as OSPF (Open Shortest Path First), IS-IS is a link state protocol: it stores information about the state of links and uses that data to select paths. IS-IS is used to intermittently send out link state information across the network, so that each router can maintain a current picture of network topology. Optional metrics can be used to identify network delay, expense, and error involved with the use of a particular link.
Continue Reading About IS-IS (Intermediate System-to-Intermediate System protocol)
PRO+
Content
Find more PRO+ content and other member only offers, here.