Definition
GMPLS (Generalized Multiprotocol Label Switching or Multiprotocol Lambda Switching)
GMPLS (Generalized Multiprotocol Label Switching), also known as Multiprotocol Lambda Switching, is a technology that provides enhancements to Multiprotocol Label Switching (MPLS) to support network switching for time, wavelength, and space switching as well as for packet switching. In particular, GMPLS will provide support for photonic networking, also known as optical communications.
Technical Guide: How to Achieve Unified Network Management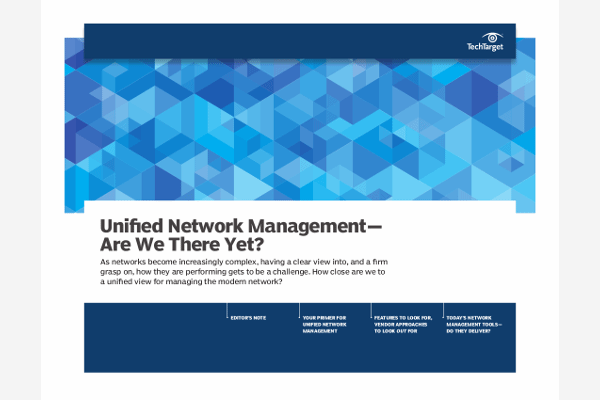 Quickly identify and resolve increasingly complex enterprise network issues. Access this comprehensive guide which reviews a holistic approach to enterprise network monitoring and the tools available to help achieve unified network management.
By submitting your email address, you agree to receive emails regarding relevant topic offers from TechTarget and its partners. You can withdraw your consent at any time. Contact TechTarget at 275 Grove Street, Newton, MA.
You also agree that your personal information may be transferred and processed in the United States, and that you have read and agree to the Terms of Use and the Privacy Policy.

MPLS involves setting up a specific path for a given sequence of packets by labeling every packet so that a routing table does not have to be referred in order to figure out which outward path a packet should be switched toward its destination. MPLS is called multiprotocol because it works with the Internet Protocol (IP), Asynchronous Transport Mode (ATM), and frame relay network protocols. In addition to moving traffic faster, MPLS makes it easier to manage a network for quality of service (QoS). The use of MPLS has become widespread as networks carry increasing volumes and varieties of traffic such as Voice over IP (VoIP).
As GMPLS evolves, it will require changes to existing protocols and will spur the evolution of new ones. The Link Management Protocol, for example, arose in part as a consequence of GMPLS evolution. GMPLS also involved changes to the Open Shortest Path First (OSPF) protocol and IS-IS intradomain routing protocol. GMPLS allows for a greatly increased number of parallel links between nodes in a network. This is important in photonic networking, where hundreds of parallel links (individual fibers in a bundled fiber optic cable, for example) may exist between a pair of nodes. GMPLS also facilitates rapid fault detection, fault isolation, and switchover to alternate channels, minimizing network downtime.
This was first published in
April 2007
Continue Reading About GMPLS (Generalized Multiprotocol Label Switching or Multiprotocol Lambda Switching)
Dig Deeper on Network Hardware
PRO+
Content
Find more PRO+ content and other member only offers, here.