Definition
FCAPS (fault-management, configuration, accounting, performance, and security)
FCAPS is a network management framework created by the International Organization for Standardization (ISO).
Technical Guide: How to Achieve Unified Network Management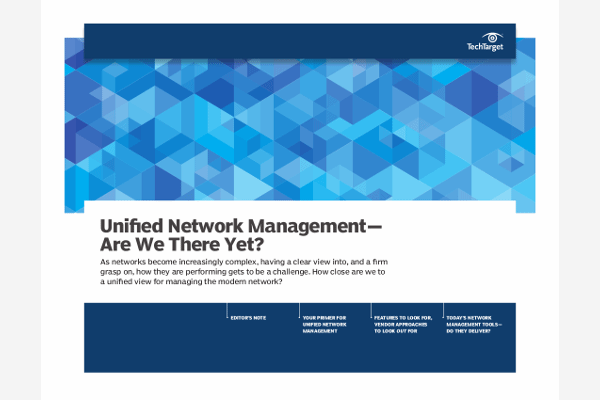 Quickly identify and resolve increasingly complex enterprise network issues. Access this comprehensive guide which reviews a holistic approach to enterprise network monitoring and the tools available to help achieve unified network management.
By submitting your email address, you agree to receive emails regarding relevant topic offers from TechTarget and its partners. You can withdraw your consent at any time. Contact TechTarget at 275 Grove Street, Newton, MA.
You also agree that your personal information may be transferred and processed in the United States, and that you have read and agree to the Terms of Use and the Privacy Policy.

FCAPS categorizes the working objectives of network management into five levels. The five levels are: fault-management (F), the configuration level (C), the accounting level (A), the performance level (P) and the security level (S).
At the fault management level, network problems are found and corrected. Potential future problems are identified and steps are taken to prevent them from occurring or recurring. With fault management, the network stays operational, and downtime is minimized.
At the configuration management level, network operation is monitored and controlled. Hardware and programming changes, including the addition of new equipment and programs, modification of existing systems, and removal of obsolete systems and programs, are coordinated. At the C level, inventory of equipment and programs is kept and updated regularly.
The accounting management level, which might also be called the allocation level, is devoted to distributing resources optimally and fairly among network subscribers. This makes the most effective use of the systems available, minimizing the cost of operation. The A level is also responsible for ensuring that users are billed appropriately.
The performance management level is involved with managing the overall performance of the network. Throughput is maximized, network bottlenecks are avoided, and potential problems are identified. A major part of the effort is to identify which improvements will yield the greatest overall performance enhancement.
At the security management level, the network is protected against hackers, unauthorized users, and physical or electronic sabotage. The confidentiality of user information is maintained where necessary or warranted. Security systems also allow network administrators to control what each individual authorized user can (and cannot) do with the system.
This was first published in
April 2007
Continue Reading About FCAPS (fault-management, configuration, accounting, performance, and security)
Dig Deeper on Network Monitoring
PRO+
Content
Find more PRO+ content and other member only offers, here.