Ethernet point-of-presence (EPOP) definition
Ethernet point-of-presence (EPOP) is a technology developed by Level 3 Communications that provides widespread access to broadband networks.
Making Networks Virtual: The Latest on SDN Technologies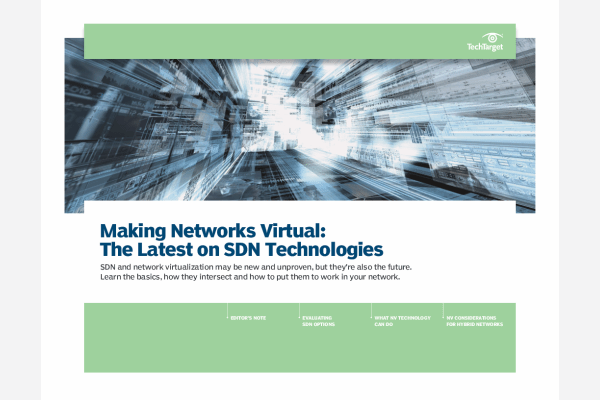 An exploration of Software-Defined Networking (SDN) technologies, network virtualization fundamentals, and the latest developments for both – helping IT pros adapt them to a modern hybrid network architecture.
By submitting your email address, you agree to receive emails regarding relevant topic offers from TechTarget and its partners. You can withdraw your consent at any time. Contact TechTarget at 275 Grove Street, Newton, MA.
You also agree that your personal information may be transferred and processed in the United States, and that you have read and agree to the Terms of Use and the Privacy Policy.

As a large network increases its bandwidth, it can include large and expanding groups of subscribers. This trend, largely the result of the deployment of fiber optic infrastructure, is expected to continue. Thus, wide-area networks (WANs) are taking on some of the characteristics previously unique to local area networks (LANs). The opposite is also true; LANs are becoming increasingly complex, resembling WANs in miniature.
Level 3 EPOP provides high-speed Internet access to non-Level 3 facilies spread over vast geographical distances. High-speed Ethernet (up to 100 Mbps) and gigabit Ethernet (up to 1 Gbps) are available.
PRO+
Content
Find more PRO+ content and other member only offers, here.