Ethernet
Ethernet is the most widely-installed local area network ( LAN) technology.
Looking for something else?
Ethernet is the most widely-installed local area network ( LAN) technology. Specified in a standard, IEEE 802.3, Ethernet was originally developed by Xerox from an earlier specification called Alohanet (for the Palo Alto Research Center Aloha network) and then developed further by Xerox, DEC, and Intel. An Ethernet LAN typically uses coaxial cable or special grades of twisted pair wires. Ethernet is also used in wireless LANs. The most commonly installed Ethernet systems are called 10BASE-T and provide transmission speeds up to 10 Mbps. Devices are connected to the cable and compete for access using a Carrier Sense Multiple Access with Collision Detection (CSMA/CD ) protocol.
Control Networks Without Borders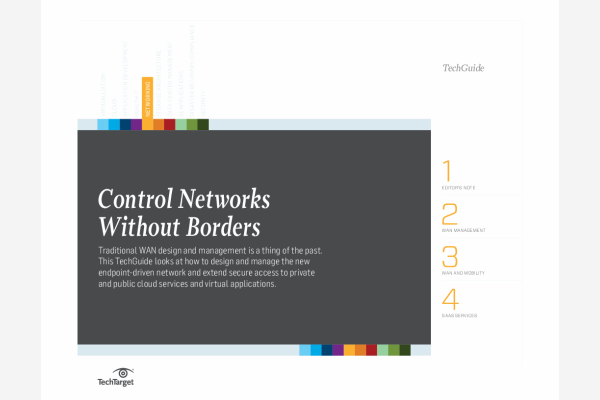 Experts weigh in on how you can design and manage the new endpoint-driven network, all while extending secure access to private and public cloud services and virtual applications.
By submitting your personal information, you agree to receive emails regarding relevant products and special offers from TechTarget and its partners. You also agree that your personal information may be transferred and processed in the United States, and that you have read and agree to the Terms of Use and the Privacy Policy.

Fast Ethernet or 100BASE-T provides transmission speeds up to 100 megabits per second and is typically used for LAN backbone systems, supporting workstations with 10BASE-T cards. Gigabit Ethernet provides an even higher level of backbone support at 1000 megabits per second (1 gigabit or 1 billion bits per second). 10-Gigabit Ethernet provides up to 10 billion bits per second.
Ethernet was named by Robert Metcalfe, one of its developers, for the passive substance called "luminiferous (light-transmitting) ether" that was once thought to pervade the universe, carrying light throughout. Ethernet was so- named to describe the way that cabling, also a passive medium, could similarly carry data everywhere throughout the network.
Continue Reading About Ethernet
PRO+
Content
Find more PRO+ content and other member only offers, here.