E-carrier system definition
T-carrier system
, and DS0 multiples, see
digital signal X
.
E1 (or E-1) is a European digital transmission format devised by the ITU-TS and given the name by the Conference of European Postal and Telecommunication Administration (CEPT). It's the equivalent of the North American T-carrier system format. E2 through E5 are carriers in increasing multiples of the E1 format.
Next-Gen WLAN: How 802.11ac Will Change Your Network Forever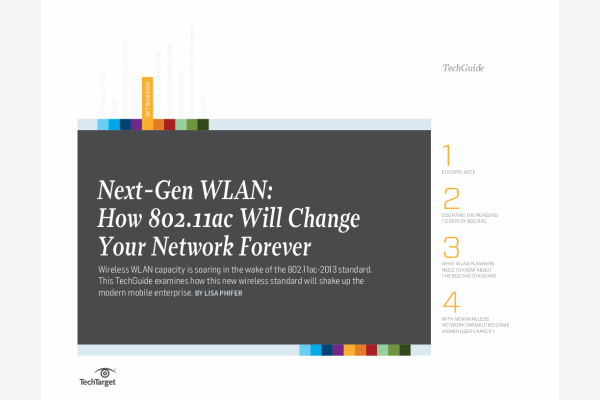 The IEEE 802.11ac-2013 standard is approved – but what does this mean for your network? Hear from experts on what this means for WLAN data rates, and why the WLAN will soon be a viable alternative to Ethernet.
By submitting your email address, you agree to receive emails regarding relevant topic offers from TechTarget and its partners. You can withdraw your consent at any time. Contact TechTarget at 275 Grove Street, Newton, MA.
You also agree that your personal information may be transferred and processed in the United States, and that you have read and agree to the Terms of Use and the Privacy Policy.

The E1 signal format carries data at a rate of 2.048 million bits per second and can carry 32 channels of 64 Kbps* each. E1 carries at a somewhat higher data rate than T-1 (which carries 1.544 million bits per second) because, unlike T-1, it does not do bit-robbing and all eight bits per channel are used to code the signal. E1 and T-1 can be interconnected for international use.
E2 (E-2) is a line that carries four multiplexed E1 signals with a data rate of 8.448 million bits per second.
E3 (E-3) carries 16 E1 signals with a data rate of 34.368 million bits per second.
E4 (E-4) carries four E3 channels with a data rate of 139.264 million bits per second.
E5 (E-5) carries four E4 channels with a data rate of 565.148 million bits per second.
* In international English outside the U.S., the equivalent usage is "kbps" or "kbits s-1."
PRO+
Content
Find more PRO+ content and other member only offers, here.