ATM (asynchronous transfer mode) definition
ATM (asynchronous transfer mode) is a dedicated-connection switching technology that organizes digital data into 53-byte cell units and transmits them over a physical medium using digital signal technology. Individually, a cell is processed asynchronously relative to other related cells and is queued before being multiplexed over the transmission path.
Next-Gen WLAN: How 802.11ac Will Change Your Network Forever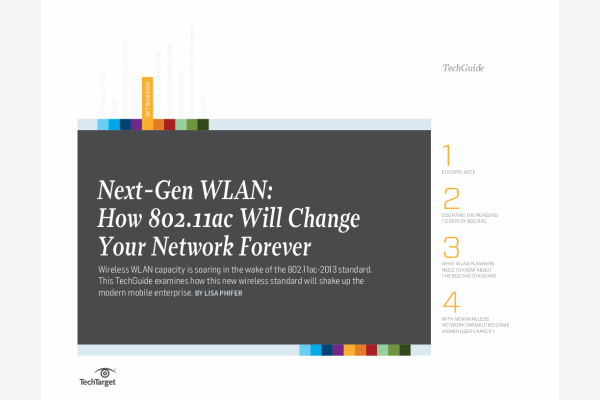 The IEEE 802.11ac-2013 standard is approved – but what does this mean for your network? Hear from experts on what this means for WLAN data rates, and why the WLAN will soon be a viable alternative to Ethernet.
By submitting your email address, you agree to receive emails regarding relevant topic offers from TechTarget and its partners. You can withdraw your consent at any time. Contact TechTarget at 275 Grove Street, Newton, MA.
You also agree that your personal information may be transferred and processed in the United States, and that you have read and agree to the Terms of Use and the Privacy Policy.

Because ATM is designed to be easily implemented by hardware (rather than software), faster processing and switch speeds are possible. The prespecified bit rates are either 155.520 Mbps or 622.080 Mbps. Speeds on ATM networks can reach 10 Gbps. Along with Synchronous Optical Network (SONET) and several other technologies, ATM is a key component of broadband ISDN (BISDN).
ATM also stands for automated teller machine, a machine that bank customers use to make transactions without a human teller.
Continue Reading About ATM (asynchronous transfer mode)
PRO+
Content
Find more PRO+ content and other member only offers, here.