ARPA (Advanced Research Projects Agency) definition
An agency of the United States Department of Defense, ARPA (Advanced Research Projects Agency) underwrote development for the precursor of the Internet, known as ARPANET. Initially a modest network of four interconnected university computers, ARPANET's initial purpose was to enable mainly scientific users at the connected institutions to communicate and share resources. ARPANET took advantage of the new idea of sending information in small units called packets that could be routed on different paths and reconstructed at their destination. The development of the TCP/IP protocols in the 1970s made it possible to expand the size of the network, which now had become a network of networks, in an orderly way.
Next-Gen WLAN: How 802.11ac Will Change Your Network Forever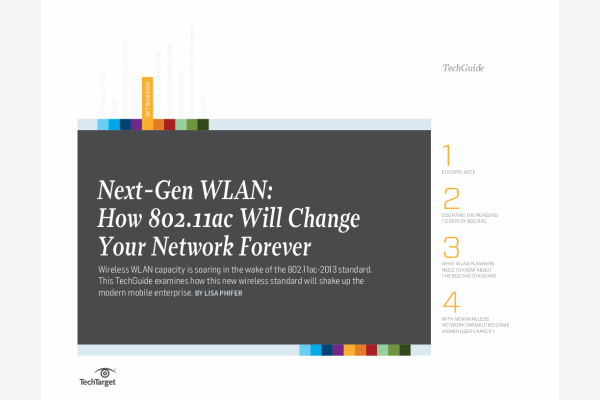 The IEEE 802.11ac-2013 standard is approved – but what does this mean for your network? Hear from experts on what this means for WLAN data rates, and why the WLAN will soon be a viable alternative to Ethernet.
By submitting your email address, you agree to receive emails regarding relevant topic offers from TechTarget and its partners. You can withdraw your consent at any time. Contact TechTarget at 275 Grove Street, Newton, MA.
You also agree that your personal information may be transferred and processed in the United States, and that you have read and agree to the Terms of Use and the Privacy Policy.

Because ARPA's name was changed to Defense Advanced Research Projects Agency (DARPA) in 1971, some people refer to ARPANET as DARPANET. (DARPA was changed back to ARPA in 1993 and back to DARPA again in 1996.)
Continue Reading About ARPA (Advanced Research Projects Agency)
PRO+
Content
Find more PRO+ content and other member only offers, here.