ARCNET is a widely-installed local area network (LAN) technology that uses a token-bus scheme for managing line sharing among the workstations and other devices connected on the LAN. The LAN server continuously circulates empty message frames on a bus (a line in which every message goes through every device on the line and a device uses only those with its address). When a device wants to send a message, it inserts a "token" (this can be as simple as setting a token bit to 1) in an empty frame in which it also inserts the message. When the destination device or LAN server reads the message, it resets the token to 0 so that the frame can be reused by any other device. The scheme is very efficient when traffic increases since all devices are afforded the same opportunity to use the shared network.
Next-Gen WLAN: How 802.11ac Will Change Your Network Forever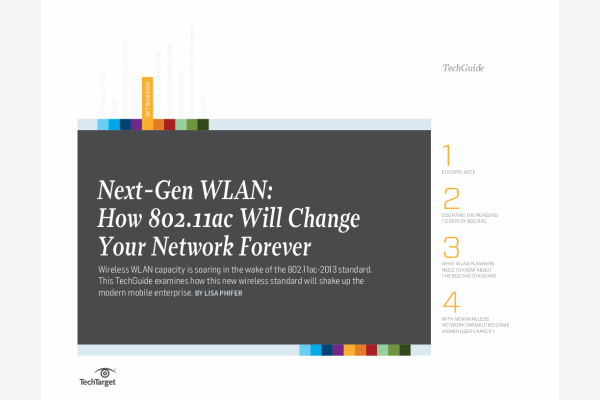 The IEEE 802.11ac-2013 standard is approved – but what does this mean for your network? Hear from experts on what this means for WLAN data rates, and why the WLAN will soon be a viable alternative to Ethernet.
By submitting your email address, you agree to receive emails regarding relevant topic offers from TechTarget and its partners. You can withdraw your consent at any time. Contact TechTarget at 275 Grove Street, Newton, MA.
You also agree that your personal information may be transferred and processed in the United States, and that you have read and agree to the Terms of Use and the Privacy Policy.

ARCNET can use coaxial cable or fiber optic lines. ARCNET is one of four major LAN technologies, which also include Ethernet, token ring and FDDI.
Continue Reading About ARCNET
PRO+
Content
Find more PRO+ content and other member only offers, here.