10BASE-36 is a type of physical cabling defined in the IEEE 802.3 (Ethernet) standard for broadband application. Although Ethernet is inherently a baseband system, 10BASE-36 specifies the use of a 10-megahertz signal on each channel within a 75-ohm coaxial broadband cable so that bandwidth is effectively expanded. Each channel requires 3 pairs of wires in the coaxial cable. Baseband differential phase-shift keying (PSK) is used to modulate the signal on each channel. Each channel has a transmission speed of 10 Mbps. The cable can extend for up to 3,600 meters.
Making Networks Virtual: The Latest on SDN Technologies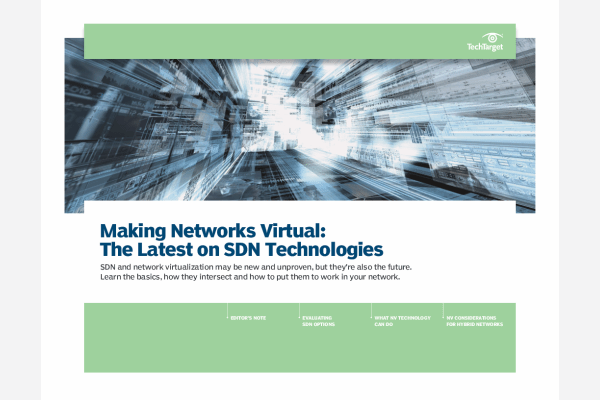 An exploration of Software-Defined Networking (SDN) technologies, network virtualization fundamentals, and the latest developments for both – helping IT pros adapt them to a modern hybrid network architecture.
By submitting your email address, you agree to receive emails regarding relevant topic offers from TechTarget and its partners. You can withdraw your consent at any time. Contact TechTarget at 275 Grove Street, Newton, MA.
You also agree that your personal information may be transferred and processed in the United States, and that you have read and agree to the Terms of Use and the Privacy Policy.

PRO+
Content
Find more PRO+ content and other member only offers, here.