Definition
10 gigabit Ethernet (10 GbE)
10 gigabit Ethernet is a telecommunication technology that offers data speeds up to 10 billion bits per second. 10 gigabit Ethernet (10-Gigabit Ethernet) is also known as 10GE, 10GbE or 10 GigE.
Technical Guide: How to Achieve Unified Network Management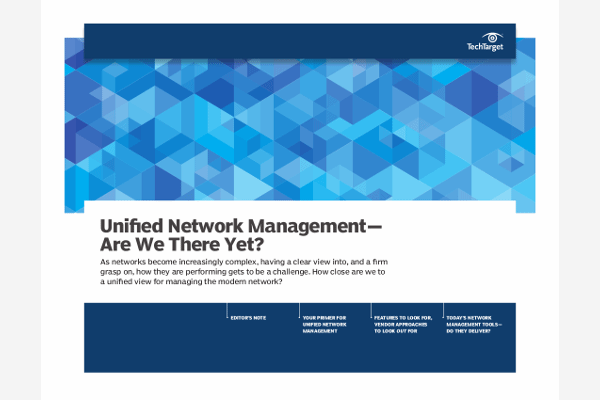 Quickly identify and resolve increasingly complex enterprise network issues. Access this comprehensive guide which reviews a holistic approach to enterprise network monitoring and the tools available to help achieve unified network management.
By submitting your email address, you agree to receive emails regarding relevant topic offers from TechTarget and its partners. You can withdraw your consent at any time. Contact TechTarget at 275 Grove Street, Newton, MA.
You also agree that your personal information may be transferred and processed in the United States, and that you have read and agree to the Terms of Use and the Privacy Policy.

The 10 GbE standard is fully interoperable with existing Ethernet protocols. It differs from traditional Ethernet in that it is a full-duplex protocol, meaning it does not need Carrier Sense Multiple Access/Collision Detection (CSMA/CD) protocols. In every other way, 10 GbE is the same as the original Ethernet protocol. This is important for network managers because as the demand for speed increases, 10 Gb Ethernet can easily be deployed within existing networks, providing a cost-effective technology that can support high-speed, low-latency requirements.
10-Gigabit Ethernet is often described as a disruptive technology that offers a more efficient and less expensive approach to moving data on backbone connections between networks. The IEEE 802.3ae standard permits distances between physical locations up to 40 kilometers over a single-mode fiber. Both single-mode and multi-mode fiber systems can be used with 10 GbE applications.
Similar to existing Ethernet protocols, 10 Gb Ethernet is a Layer 1 and Layer 2 protocol that adheres to key Ethernet attributes, including the Media Access Control (MAC) protocol, the Ethernet frame format, and minimum and maximum frame size. 10 Gb Ethernet connects current to fiber optic cable but is expected to be compatible with twisted-pair copper as well. The standard supports connections to both LANs and WANs, and can connect to SONET and SDH wide area networks.
Challenges to deploying 10 Gb Ethernet are primarily based on the costs to deploy versus the benefits received, along with issues associated with the potential replacement of legacy network technologies, such as point-to-point private lines and/or multiprotocol label switching (MPLS).
This was first published in
May 2013
Continue Reading About 10 gigabit Ethernet (10 GbE)
PRO+
Content
Find more PRO+ content and other member only offers, here.